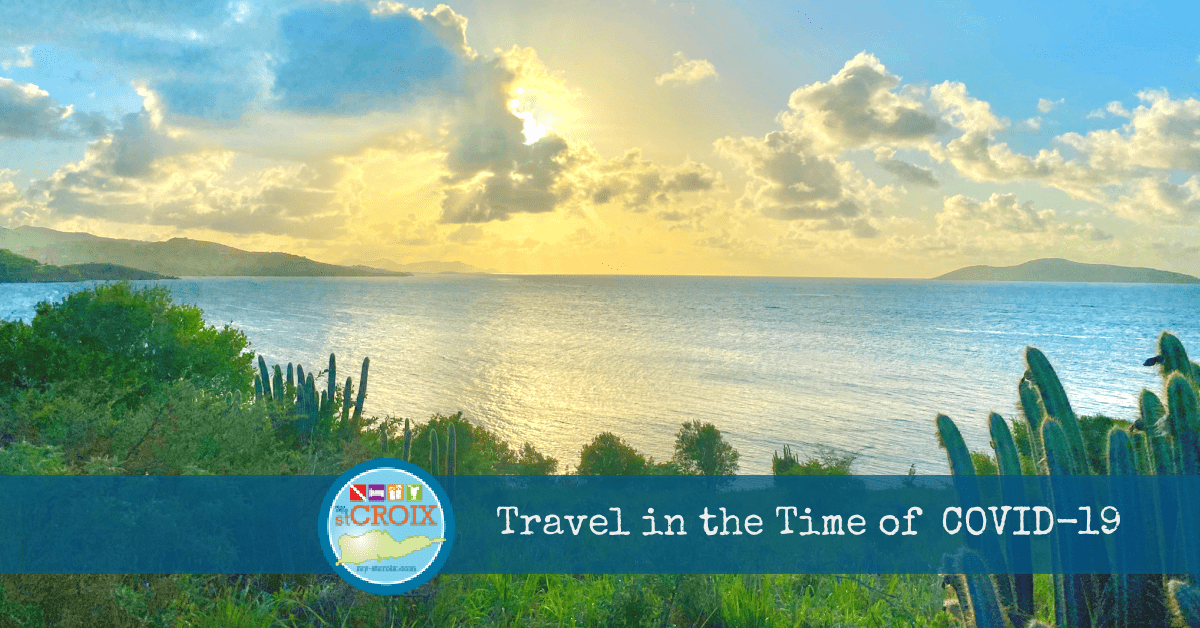 Updated: March 14, 2022
As one of the few locations that have remained open to travelers during the pandemic, there are some things that you should know about visiting St Croix and the Covid travel restrictions to the Virgin Islands in 2021. So, we've put together some St Croix COVID-19 travel restrictions and travel tips.
The Mask Mandate in the USVI has been lifted as of March 14, 2022.
Masks are no longer required to be worn inside all commercial and government indoor spaces. At this time, masks continue to be required to be worn in schools, hospitals, healthcare facilities, ports of entry, and airports. So, we recommend you carry one with you just in case.
Covid Travel Restrictions Virgin Islands
As of March 7, 2022 travelers arriving in the US Virgin Island with valid vaccination records will no longer be required to provide a negative COVID-19 test.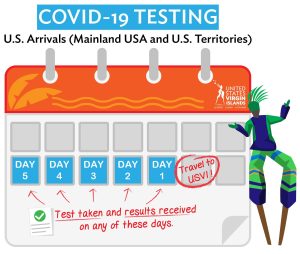 All traveler's, regardless of vaccination status, must upload vaccinations status or a negative COVID-19 Test (PCR or Antigen) result to the USVI Travel Portal within 5 days of commencement of travel in order to obtain clearance via a green QR code.

As of March 7, 2022, all travelers from the U.S. mainland and/or from another U.S. Territory are now eligible to upload vaccination records in lieu of a negative test. Visit usviupdate.com for vaccination specifics.
You may be asked to present this at check-in PRIOR TO BOARDING the plane. If you don't have it, you aren't getting on. And they're serious.
Upon arrival on St Croix via air, you will be routed through a room where your Green QR clearance code will be checked. I recommend screenshotting it on your smartphone so that it is readily accessible.
Travel From A Foreign Country
Travelers coming from a foreign country (regardless of whether you are a US citizen or permanent resident alien) must present test results within 1 day of commencement of travel to the Territory. (This means travel from any country that is NOT a US state, territory or possession of the United States).
You do not need to be tested when you leave the US Virgin Islands and travel (back) to the states. (The United States Virgin islands is NOT a foreign country.)
Have a COVID-19 negative test result (PCR or Antigen) obtained within 5-days of commencement of travel
*OR* if you are a resident of the USVI and were fully vaccinated in the USVI, you will be able to present your vaccine information.
Certification from USVI Travel Portal (printed or digital) … you may be denied boarding without this.
Read the Current Official USVI Travel Requirements

✈️ Access the USVI Travel Portal
---
Testing is readily available on a walk-in basis at places like Plessen Urgent Care in Sunny Isles.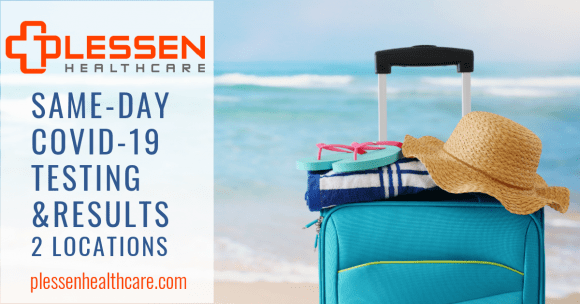 Even better news is that all businesses in the US Virgin Islands continue to be open with COVID-19 protocols and some restrictions in place. You'll find St Croix restaurants and bars open – including some new ones! – with live entertainment. Be sure to follow our St Croix Calendar to see what's happening on the island while you're here. Reservations are always recommended though most are now running at 100% capacity. With many of the island's restaurants open-air establishments – dining out isn't a lot different these days. Masks are no longer required by the Government in open-air spaces including restaurants with 3 walls or less and beach bars. Masks continue to be required in indoor businesses and public spaces.
No Mask, No Service. As of March 14, 2022 masks are no longer required to be worn inside all public indoor spaces including stores, restaurants, hotel lobbies, taxis, government office etc. At this time, masks continue to be required to be worn in schools, hospitals, healthcare facilities, ports of entry, and airports. So, we recommend you carry one with you just in case.
Social Distancing of at least six feet away from other people that are not of their same household is encouraged whenever possible.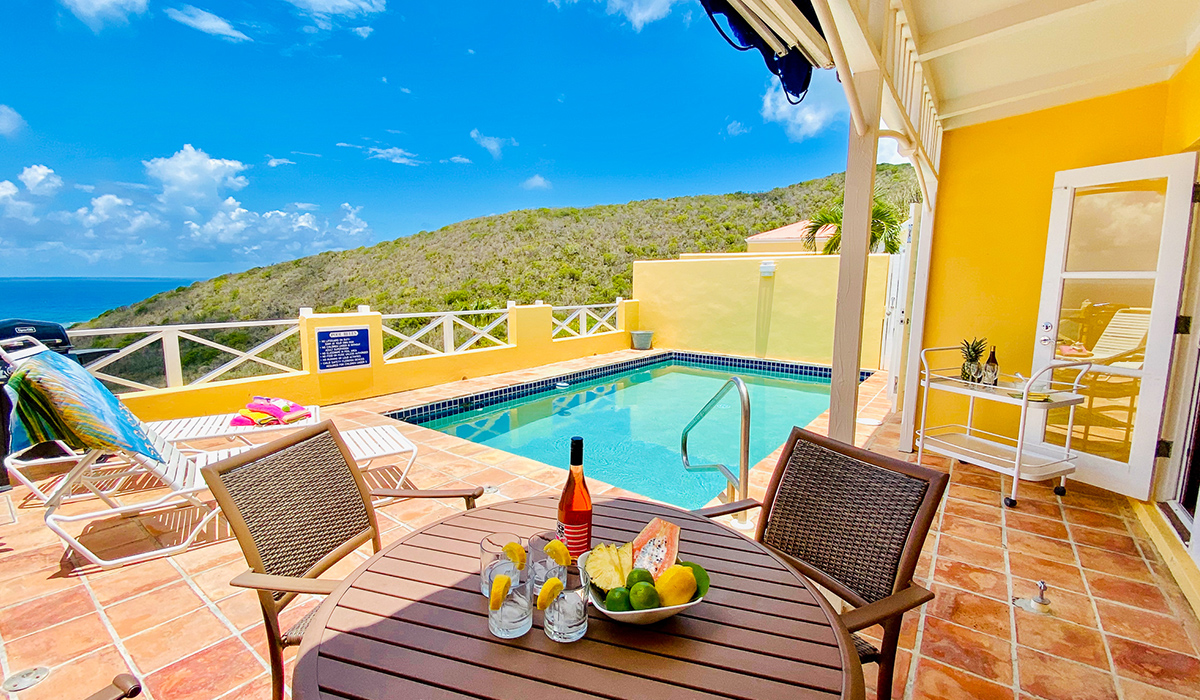 One of the perks of the islands is, of course, that we have summer year-round, and outdoor activities abound. There are plenty of places and spaces for you to practice social distancing while enjoying your vacation. Vacation villas, like the collection at Vacation St Croix, are also a great way to enjoy your vacation while maintaining some distance from others. You have your own private pool and fully equipped house to relax and enjoy for the duration of your stay.
Want to know what's happening while you will be here? Be sure to follow the St Croix Calendar for live music, events, and more.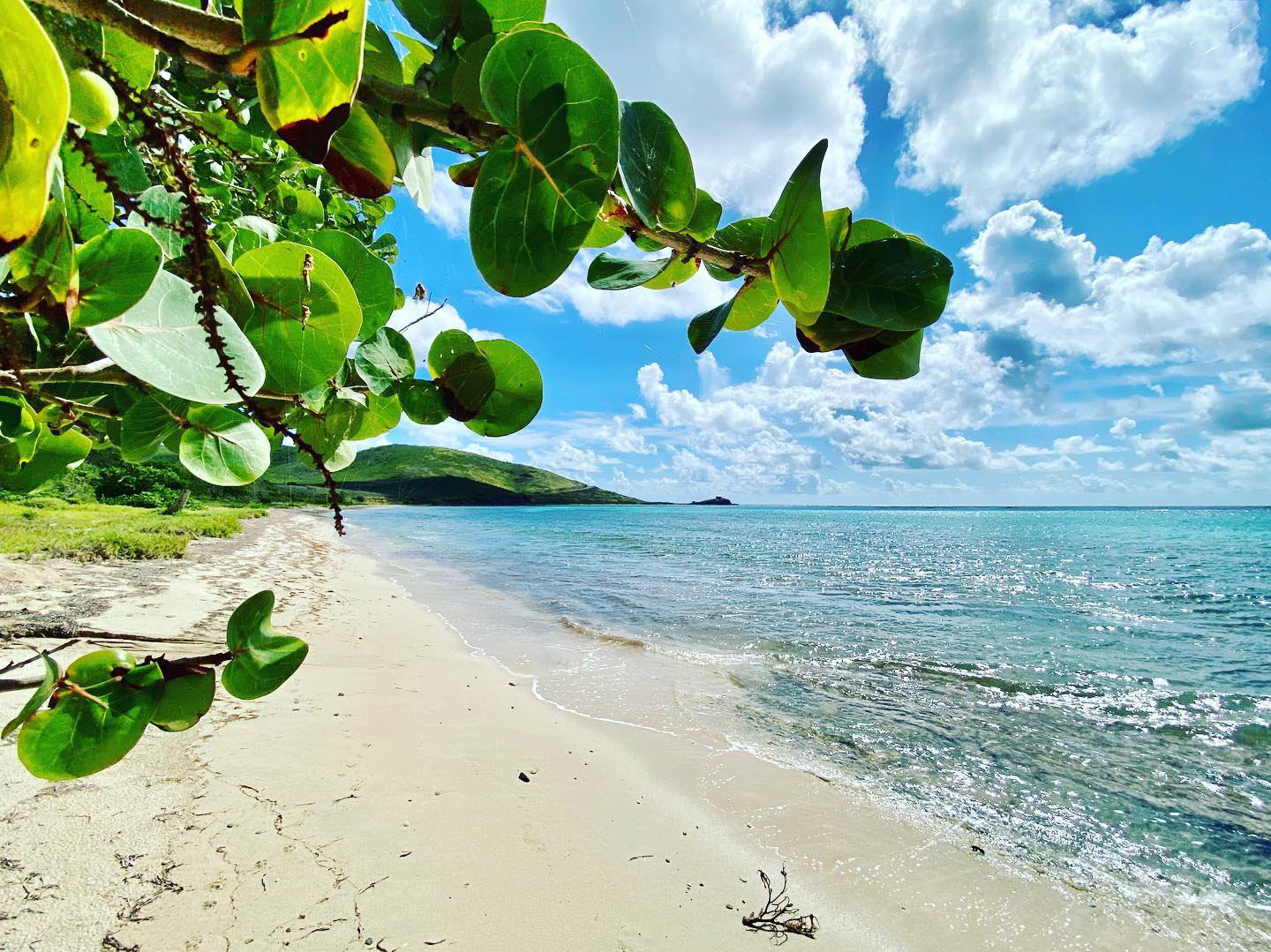 And of course, there are still plenty of tours and things to do that are operating under current guidelines with plenty of open air. Ride horses on the beach with Cruzan Cowgirls or head out to Buck Island for a snorkeling trip with Caribbean Sea Adventures or one of the many other boats headed that way. If staying underwater is more your style – there's plenty to see! Check out our favorite Scuba operators and they'll get you out to the best spots.
St Croix COVID-19 Travel Tips
Wear a Mask. In fact, it's required by all airlines. Your best option is an N-95 mask if you can find one available. But other commercially made and home-made masks or face-coverings will do. Remember, the purpose is NOT exactly to prevent you from getting the virus, it is to prevent you from SPREADING the virus as an asymptomatic carrier. It's about protecting others. Check with your airline in advance regarding their specific guidelines. (for example masks with exhalation valves or vents cannot be worn as air flowing out can spread the virus which defeats the purpose of wearing your mask.)
Sanitize Sanitize Sanitize! When I traveled recently, I had a baggy full of Clorox Wipes handy so that I could wipe down the arm rests and tray table as soon as I sat down (though I found that the airplanes were sparkling clean and attention to detail was apparent). I also used them to open bathroom doors in the airports when I had layovers. And, of course, I used PLENTY of hand sanitizer throughout my trip.
Consider purchasing travel insurance. Check with your credit card, often they offer automatic travel insurance but you need to be aware of the restrictions. Otherwise, check out travel insurance to see what may be available in the case of a delay or cancellation due to illness or even weather. Most accommodations here in the islands will happily credit you for a stay at a later date if you need to cancel for reasons due to COVID-19. But, it's always wise to ask about cancellation policies at the time you are booking your stay.
Ready to pack your bags? Check out our packing recommendations for your Caribbean vacation and be sure to learn about Reef Safe sunscreen before you hit the beach.
We can't wait to welcome you back to St Croix and the US Virgin Islands. Just please be respectful while you are here and help to protect our community from the virus in the same way you would protect your family.
And please don't give your servers, tour operators or other business owners and employees a hard time about the local policies in place. They are simply following the guidelines so we that we can keep our businesses open and continue to share our beautiful island with you!